Avon County RC's annual regatta (Bristol Avon Regatta) takes place on the River Avon just upstream of Avon County's boathouse, on our straight 1000 metre course.
We were very pleased to welcome you back to our regatta on Saturday 14 May 2022. Thank you for coming.
Links to the times taken are below, with a note about them
Links to times taken:
We have done our best with the race times. The timers had problems in the afternoon so some races were not timed and I have had to be creative with the results of the following races – if anyone timed their own race I would be grateful to know if they are correct!
M43, M44, P2, P3, P4, P6, P7, P8, P9, P10, P11, P12, P13, P21, P22, P23, P24, P25, P28, P29, P30, P31, P32, P34, P35, P43
Penny Senior
0779 282 1306
pennysenior@outlook.com
Morning session:
Mid-day session:
Afternoon session:
(will be updated with 2022 times soon)
---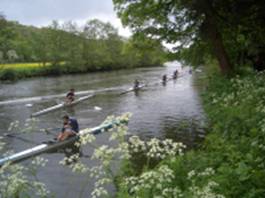 In its heyday, the regatta was called "the Henley of the West". The Saltford regatta history (pdf 491kb) gives a vivid picture of an Edwardian Regatta. In the 1970s the Regatta moved to Bristol docks, and it moved back to Saltford in 2008.