After missing two years, we look forward to welcoming you to the next regatta, which will take place on Saturday 14 May 2022
More news will be posted here as it becomes available.
---
Avon County RC's annual regatta (Bristol Avon Regatta) takes place on the River Avon just upstream of Avon County's boathouse, on our straight 1000 metre course.
Poster for the 2020 Regatta (cancelled)
---
Documents for 2019 Regatta
Bristol_Avon_Regatta_2019_resultswithtimes_excel
Course records following 2019 regatta
Bristol_Avon_Regatta_2019_draw
Bristol_Avon_Regatta_2019_timetable
Bristol_Avon_Regatta_2019_timetable_excel
———
Bristol_Avon_Regatta_NotesforCompetitors_2019
Bristol_Avon_Regatta_Circulation_2019
Bristol_Avon_Regatta_Parking_2019
Bristol_Avon_Regatta_Welfare_Statement_and_Plan_2019
———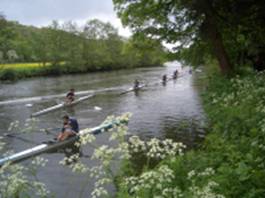 In its heyday, the regatta was called "the Henley of the West". The Saltford regatta history (pdf 491kb) gives a vivid picture of an Edwardian Regatta. In the 1970s the Regatta moved to Bristol docks, and it moved back to Saltford in 2008.