Avon County RC's annual regatta (Bristol Avon Regatta) takes place on the River Avon just upstream of Avon County's boathouse, on our straight 1000 metre course.
Thank you to all who came to our regatta held on Saturday 13 May 2023, which included the West of England Challenge Vase competition for coxed fours, both open and women. The date for the 2024 Regatta is Saturday 11 May.
Results:
Results 2023 by event with times
Bristol_Avon_Regatta_2023_results_excel-v3
Course records following 2023 regatta
———————————————
—————-
—————–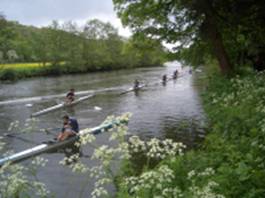 In its heyday, the regatta was called "the Henley of the West". The Saltford regatta history (pdf 491kb) gives a vivid picture of an Edwardian Regatta. In the 1970s the Regatta moved to Bristol docks, and it moved back to Saltford in 2008.
---
---