This year's regatta will be on Saturday 9 May 2020
Avon County RC's annual regatta (Bristol Avon Regatta) takes place on the River Avon just upstream of Avon County's boathouse, on our straight 1000 metre course.
NEWS – WEST OF ENGLAND CHALLENGE VASE – NOW FOR WOMEN TOO
This year it is our turn to host again the prestigious West of England Challenge Vase. It has always been for Open coxed fours, but now the decision has been taken to bring in the corresponding event for Women.
The names of the winners of both events will be added to the famous trophy, and the special pots with stampings will be awarded to the winners of both events.
---
Documents for 2019 Regatta
Bristol_Avon_Regatta_2019_resultswithtimes_excel
Course records following 2019 regatta
Bristol_Avon_Regatta_2019_draw
Bristol_Avon_Regatta_2019_timetable
Bristol_Avon_Regatta_2019_timetable_excel
———
Bristol_Avon_Regatta_NotesforCompetitors_2019
Bristol_Avon_Regatta_Circulation_2019
Bristol_Avon_Regatta_Parking_2019
Bristol_Avon_Regatta_Welfare_Statement_and_Plan_2019
———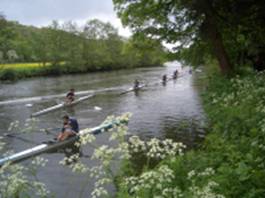 In its heyday, the regatta was called "the Henley of the West". The Saltford regatta history (pdf 491kb) gives a vivid picture of an Edwardian Regatta. In the 1970s the Regatta moved to Bristol docks, and it moved back to Saltford in 2008.