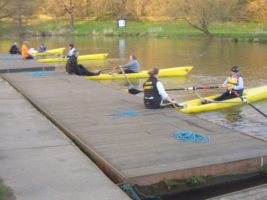 Joining

– if you already row or scull
Existing coxes, rowers, scullers and coaches of any age and ability are very welcome – we encourage prospective members to come and give rowing a try with us on our beautiful stretch of river.
If you're interested in joining, please contact us (see [ Contact Us ] page for the correct section coordinator to contact). If you would like first to have a look at what we do, come down and see us at the river.
Beginner

Adults (19 and over)
If you have never rowed before, rowed ages ago at university and want to return to it or have enjoyed paddling around a boating lake in summer and fancy having a go, this is the place to start!
There are two ways to start rowing or sculling with the club.
1. Learn to row courses.  These are usually run twice a year and last about 9 weeks.  This is a fun way to learn in a group and to make new friends.  Courses start with a taster session (where it is possible to try out rowing and see if it is for you) after which you will be able to sign up for the course.  The taster session is £20 and the full course costs £120.  The next course will start on Saturday 25th March 2023 with a taster session two weeks earlier on Saturday 11th March 2023. A second course will run over the summer in June & July 2023. After completing the learn to row course, if you wish to continue your rowing, you can move into a development squad to progress towards competition or social rowing as you would like. 
If you want to start to row indoors before starting a learn to row course then you can always join our Indoor Rowing classes either as a one off (£5 per class) or regular member (£18 per month). Please see the section of the website on "Go Row Indoor".
2.
Individual lessons
(available all year)
.  This may suit you better if the learn to row courses don't fit in with your timetable or you prefer to have personal tuition.  It is possible for individuals
to learn in small groups
(
e.g.,
a group of friends)
and therefore to share the cost of the coach.  Initial sessions cost £5
per person
plus the coach's fee (£25 per hour).   For a subsequent session, you would need to join the club (which costs £24 per month) as well as pay the coach's fee
for each lesson.
[ 

Contact Us

 ] if you
would like to be added to the waiting list for the next learn to row course, or would like more information about individual lessons.
Juniors (school years 7 – 13)
For the junior waiting list form, [ Click here ] . All potential juniors should complete this before attending a taster session, as it is an easy way for us to gather contact info etc.
We run junior taster sculling sessions (for those in year 7 or above) at Avon County Rowing Club in Saltford on Sunday mornings, between Easter and the Autumn.  Anyone who completes the junior waiting list form (above) will be invited to a taster session when we have availability.
Fees
Membership costs from April 2019:
Full member – £288 per year £24 per month
Junior – £144 per year £12 per month
Student – £144 per year £12 per month
Coach – £72 per year £6 per month
Racking fee for privately-owned boats – £72 per seat per year £6 per month
(Reduced rates available for families where seniors and juniors are members)
Please pay by Direct Debit if possible. Information about payment is included in the Membership Form – see below.
Other costs
You'll need to supply your own athletic clothing which should allow ease of movement and be warm enough for the time of year. We have a supply of club clothing and there are several companies who sell rowing kit online.
When you compete in a rowing race, you will need to pay an entry fee (usually between £8 and £12 per head) and a towing charge. This is currently £7 per person, per event (juniors £5) and is used to cover the fuel costs of the person towing and – if required – the hire of a towing vehicle. You will also need to take out [ membership of British Rowing]
Membership Forms
[ Full or Student membership form ]
Safety
Membership of Avon County is open to anyone, provided they can swim at least 100 metres in light clothing. As part of your induction to rowing and to the club, important safety education will be provided and we ask that you take careful heed of this.